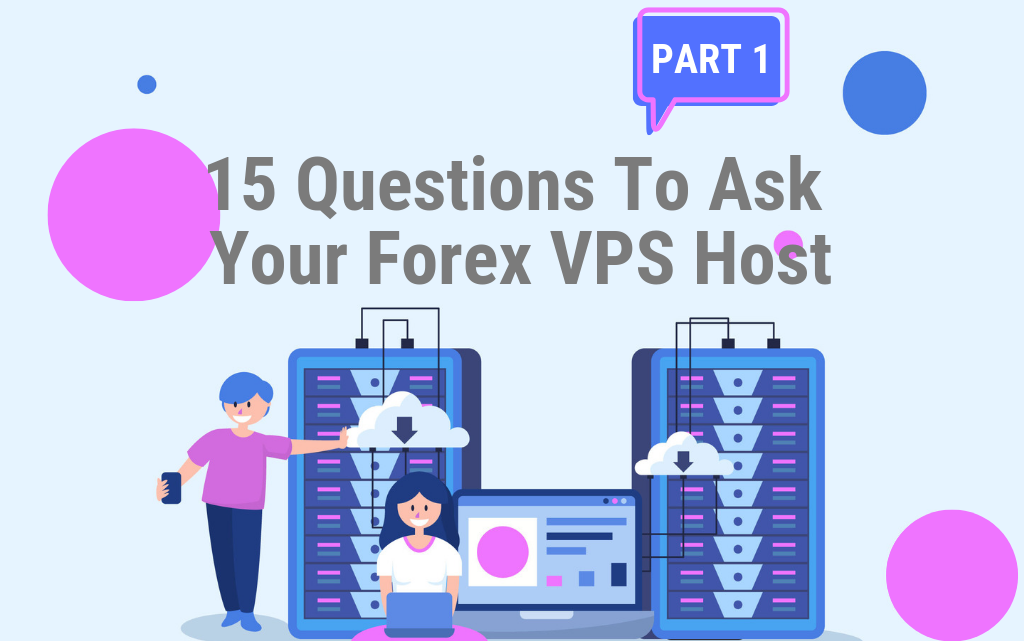 Settling for a VPS host may be quite troubling, especially without some basic technical knowledge when you are bombarded with so many choices on the Internet. Tempting the promotions are at first glance. Then you look back and find your head among clouds- where do you begin with?
This post aims to build a basic foundation and understanding on VPS hosting, where you will be introduced to the basic key terms used frequently as we discuss further into the topic. Through this post, you will also be able to identify 15 key questions to ask and research, that will guide you to choosing the best VPS host available to you.
Let's cut to the chase.
Q1. Where are the company servers physically located?
Servers are very powerful computers. Just like your laptops and desktop computers, servers require a footing space. This space, or room that locates servers is a data center.
Data centers are often managed by an entirely different company. So you're looking at two companies that are going to stand with different policies on data restoration and back-ups. Always a safer way to go with knowing more, right?
You probably would also want to find out the physical location of the data center. Settling for a local data center is ideal in most cases. The further you are located away from the center, the higher the latency, and the more unstable your server performs. If you think you're too far, ask your host if you have a choice to relocate, or if they are willing to help you relocate.
Q2. What kind of payment plans are offered?
VPS hosting has become a booming business over the years. More are aware of its limitless potential and benefits. With a growing market demand, companies are becoming even more competitive in designing different attractive offers, packages and plans for their prospects.
Here is a pretty common deal you can get from hosting companies: The longer you are subscribed to a hosting plan, the more discount you will be entitled to. Also, many hosting companies offer 3-days, 5-days and even a 7-days free trial. Some also offer a 30-days-money-back guarantee. In short, the more competitive the market becomes, the more choices we are presented with, and the more benefits customers can reap from individual hosting companies.
Q3. What are the renewal terms and fees, and for how long?
Say, you stumble upon an awesome offer: Mid-year sales VPS Hosting at 70% discounted price! Limited time, limited units!
That's great, but don't get ahead of yourself. Take a deep breathe, and read along.
Offering discounts is a psychology strategy businesses implement to attract new prospects (first-time subscribers). And it works magic- for both sides as we know it. Snatching an offer is amazing apparently, but you gotta make sure to find out the duration (for how long). 1 month? or 2 months perhaps? From time to time, hosting companies also offer a one-year contract at discounted price to first-time customers. No matter the period, you must ask yourself this: How much would you be patching up following the end of the contract? Is there a renewal fee involved? How much and on what terms?
Knowing the numbers inside out certainly helps make better decisions. Ration, after all is to crunch numbers, analyze, and apply accordingly.
Q4. Does the company offer an unlimited hosting plan? What exactly does 'unlimited' mean in this context?
Some hosting companies out there offer unlimited hosting plans. Unlimited? Wow, sounds really amazing!
Wait up- being a pretty headline aside, just how much truth is told there? In fact, unlimited hosting is often just a marketing gimmick.
Should you flunk the idea then? It seems like a pretty sweet deal after all, right? You're probably right, and that's why it is your job to find out the real deal! Ask the hosting company what exactly does 'unlimited' imply. Unlimited bandwidth? Unlimited disk space? Or what?
Q5. What is your scalability potential when hosted with the company?
Scalability is the server's ability the handle a sudden increase of workload. For example, an overnight burst of website traffic growth. It could happen when a piece of content goes viral, or when a promotion goes out of hand. It could also be a huge pain in the ass when it happens so that your website is hosted on a shared server or when your server plan is simply not performing on par.
The website is most likely unable to handle the crisis. Load time will increase significantly, and customers will be driven away after an impatiently (long) wait. Most of all, you could lost a major profit!
But you're not going to play right into it, because you now know exactly what to ask. And let's cross your fingers to hope that your host is ever ready to assist. Find out what they can do to help. Are they able to upgrade your server configurations to make it work? Or do they provide other different types of hosting service that can cater to your now-bigger needs?
Q6. Who is responsible for managing your server?
Managing servers is a complicated work. requiring both technical knowledge and skills, which can be a little too much to handle for most in the beginning. To make things simpler, server colocated in data centers are usually managed by a dedicated team of technicians.
Your mission here is to find out whether or not your server is managed. If it is unmanaged, do you have all the knowledge required to maintain a server? For example, a server requires constant monitor for updates. And from time to time, compartments require replacements. If you don't, what are some other options that the host can advice to ease your problems?
If all else fails, always be on the lookout for a hosting company that can save your troubles. After all, you're paying these companies for a reason, and servicing you is a part of it.
Q7. How many clients are assigned to one server in a shared hosting environment (if you're looking at any)?
Shared hosting differs slightly from VPS hosting.
Shared hosting is like living in an apartment: you have a landlord who owns the full space and assets. You lease a space and share communal assets (server resources) among your neighbors.
VPS hosting is one step above, similar to living in a condominium. You lease a space and get actual claims to portions of them, which gives you the right to renovate, repair and maintain the space as you wish.
VPS hosting is certainly more favorable under most conditions, yet there are times when the odds are not in your favor. In that case, settling for a shared hosting plan is a good start.
Cheap hosting plans are not necessarily a turn off, if you know what you're getting at. When looking at a shared server, knowing how many users are assigned to one server can help you determine whether the host oversells, or whether you are likely to experience bandwidth or disk space issues.
Prevention is the best cure, right? Also, one less trouble. Maybe even, two, or three.
Understanding a server from several different perspectives is important for good decision-making. Of course, a little technical knowledge would be appreciated to help you choose one out of the many plans scattered across the sea of Internet. However, it is more essential that you understand from the nature of your business/operations, how a server can help maximize the output.
In Part 2, we will be looking out for more must-ask questions for your potential host.
Get ready to question further!